Today I have an interview with Suzanne van Rooyen whose sci-fi YA book Obscura Burning is wildly inventive and thought provoking.
What's the hardest part of writing a book?
Getting started. I tend to agonise over the first sentence, but if that's not right then I just can't get into the flow of the story and keep going. I have a bad habit of editing as I write, which makes getting to the end of the first draft rather arduous.
What's your favourite part of writing a book?
Discovering characters. I try to give my characters some free rein in my stories and let them do as they please. I love being surprised by where they take the story.
What books have influenced your writing?
Just about all of Neil Gaiman's work as well as Poppy Z Brite's book 'Lost Souls' – it was after reading that, that I knew what kind of books I wanted to write.
What are your thoughts on ebooks? (i.e. love them, hate them, wave of the future)
Love them. They make my life easier and I'm a huge fan of the sample feature on Amazon. I honestly don't understand why people are so anti ebooks.
Do you read reviews written about your book?
Sure because I learn something from every review. I learn what worked for that reader and what didn't, hopefully the why of it as well, which helps me with future endeavours.
How do you deal with negative reviews?
If they're constructive then I accept what the reader is saying and try to gain insight from the criticism. If it's pure vitriol (which thankfully I haven't had) then I'll probably just laugh it off as subjective opinion.
Did you base any of the characters on real people?
I think there are always aspects of real people I know in each one of my characters and that's particularly true for Kyle in Obscura Burning.
How long did it take to write your book?
Obscura Burning was a bit different and I wrote it in a whirlwind of inspiration. The first draft took me about two weeks but revisions took another month or so.
What types of promoting do you do?
Mostly online stuff using various social media. Living in Finland makes promoting my work a little tricky.
What is your favourite part of promoting your book?
Getting feedback from readers. It always makes my day seeing a tweet from someone about how they enjoyed my book.
What is your least favourite part of promoting your book?
Having to sell myself. I really don't like the whole 'look at me and my awesome book' aspect of it.
What input, if any, did you have in the cover design?
Not much to be honest. I filled out a rather extensive questionnaire about the book, the tone of the story, the themes etc. and the artist took it from there. That said, I think the cover is absolutely perfect and I wouldn't have changed a thing.
Anything else you would like to add?
Nope, other than to say thanks for letting me chat about my book 🙂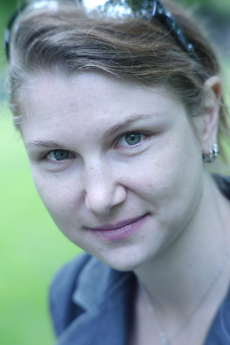 About Suzanne van Rooyen
Links: Website, Blog, Facebook, Twitter, Goodreads
I'm a YA author with a penchant for the dark and strange. I primarily write speculative fiction but enjoy literary writing as well. I occasionally delve into adult genres too.

I'm a musician and have a Master's degree in music, but I prefer writing strange stories, baking peanut butter cupcakes and playing with my shiba inu.
Obscura Burning by Suzanne van Rooyen
Links: Amazon, Goodreads
The world's going to end in fire…and it's all Kyle's fault.

Kyle Wolfe's world is about to crash and burn. Just weeks away from graduation, a fire kills Kyle's two best friends and leaves him permanently scarred. A fire that Kyle accidentally set the night he cheated on his boyfriend Danny with their female friend, Shira. That same day, a strange new planet, Obscura, appears in the sky. And suddenly Kyle's friends aren't all that dead anymore. Each time Kyle goes to sleep, he awakens to two different realities. In one, his boyfriend Danny is still alive, but Shira is dead. In the other, it's Shira who's alive…and now they're friends with benefits. Shifting between realities is slowly killing him, and he's not the only one dying. The world is dying with him. He's pretty sure Obscura has something to do with it, but with his parents' marriage imploding and realities shifting each time he closes his eyes, Kyle has problems enough without being the one in charge of saving the world…
Related Posts