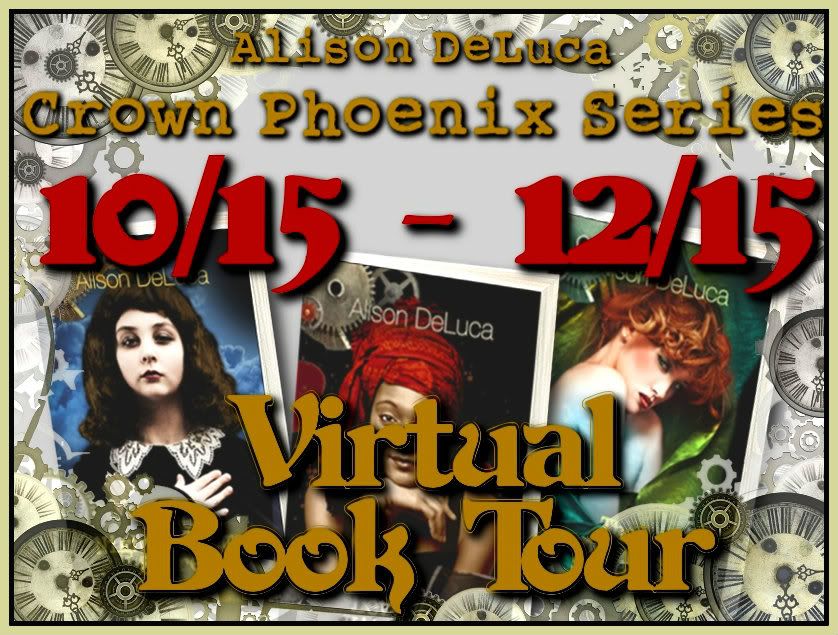 For my stop in the Crown Phoenix series book tour, I have two features for you today. First up is an excerpt from book #1, The Night Watchman Express, with an amazing giveaway at the bottom. This afternoon I will have a review of the first book. Enjoy!
"Oh, come on," he said, pushing past the heavy desk and large chair to where she stood. "What have you got there, behind your back? I won't tell on you; I just want to see what you've got." Miriam twisted away from him, but Simon managed to get an arm around her and grab the paper.

"Ha ha!" he said, releasing her and holding the paper above his head. "Success!" He put a hand out and grabbed her arm. "No, hold on, don't leave; I just want to see…"

His voice died out as he stared at the letter. For an instant, he was frozen in disbelief.

Then he looked up at her, mouth hanging open. "What on earth?"

"Well, don't think that I had anything to do with it!" Miriam cried out.

"Yes, but-"

At that moment, they heard Theodosia's voice at the front door, demanding that a servant come to take her parcels. Simon held the paper out to Miriam, and she thrust it back it him as if it were a live snake. He looked around the study and pushed it under the corner of the blotter. They retreated from the desk, escaped from the room and, as if with mute accord, ran for the back door as quickly as they could.

Outside, Simon took a deep breath and blew it out. He laughed a bit, feeling a certain exultation at avoiding his mother.

Miriam, leaning against the house and feeling her own heart thud in her chest, laughed as well. The next moment she opened her eyes and realized where she was. She was standing there with Simon, alone.

"Um, just realized. I must be off. 'Bye," she announced hastily.

Simon frowned and reached out a hand to grab her arm again, but she slipped away and disappeared back into the house. He dropped his hand and started after her.

Neil came up behind him and grabbed his collar. "Hey, you abandoned me! Where've you been?" he demanded. "Did you find the string we needed?"

"What?" Simon turned to him and blinked.

"What's the matter with you? You look like you just saw Old Harry himself. Where's that string, idiot?"

Simon appeared to recall where he was. "String, right. String." He squared his shoulders and marched away. Neil was left behind, scratching his head.
About Alison DeLuca
Links: Facebook, Twitter, Pinterest, Goodreads
Alison DeLuca is the author of several steampunk and urban fantasy books. She was born in Arizona and has also lived in Pennsylvania, Illinois, Mexico, Ireland, and Spain.

Currently she wrestles words and laundry in New Jersey.
The Night Watchman Express by Alison DeLuca
Links: Amazon, Smashwords, Goodreads
Orphaned Miriam has always been terrified by the sound of THE NIGHT WATCHMAN EXPRESS as it hurtles by her house. The sound of the train gives her nightmares of an underground factory, and a laboratory where brutal experiments take place.

During the day she has very different problems. Her new guardians, the Marchpanes, have arrived with their son, Simon, to live in Miriam's house. The Marchpanes are plotting to take over her dead father's business.

As they are both strong willed and stubborn, Miriam and Simon develop an instant dislike for each other. They have to work together, however, in order to solve the mystery of what the Marchpanes are doing with Miriam's inheritance.

As they come closer to learning the truth, Miriam is kidnapped and put on THE NIGHT WATCHMAN EXPRESS, and Simon must try to rescue her. In doing so, he will have to confront his own parents and the evil forces behind them.

But as he tries to help Miriam, he is captured. Simon is put in a strange, luxurious prison, where his jailers are as hauntingly beautiful as they are dangerous.

As THE NIGHT WATCHMAN EXPRESS arrives at its destination, Miriam comes to the shocking realization that her nightmares about the subterranean factory and the dark laboratory were not just dreams.

What she always feared more than anything is going to come true.
Giveaway
Enter the tour wide giveaway featuring several prizes. The main prize is a Kindle Fire (US only), but there are lots of international prizes, including two pieces of Steampunk pendants.
a Rafflecopter giveaway

Related Posts