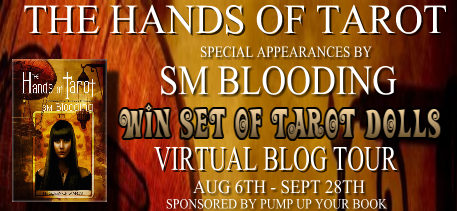 As part of her blog tour for The Hands of Tarot, I have an interview with author SM Blooding.
Please start by telling us a little bit about yourself.
I'm a little over five foot tall, overweight by my knee's standard, and used to be a natural red-head. Oh, wait! You didn't mean that!
I live in Denver, Colorado with my pet rock, Rocky, and my bird, Jack. I've always had an insatiable need to experience, which has gotten me into a lot of trouble in the past. I've dated everything from weapons smugglers, to FedEx drivers, but the cream of the crop has to be the bagpipe playing vampiric US government assassin.
You think I'm kidding. I'm not. LOL! There's a reason I have so much to write.
When did you know that you wanted to write professionally and how did you take the leap to get into the business?
I've always had high expectations for myself. When I first started writing novels, I said, "Self, you're pretty good with this. You should get published."
I did get published that same year as an erotica e-novelist. Erotica just isn't…well, I'm very vanilla. Let's just say that. So erotica was a bit of a stretch for me.
However, that gave me a taste of the publishing world. I was addicted ever since.
I wrote Demons Are Jackasses which was rejected 70+ times, rewritten about that many times, and Tempest in a Teacup, which is still in re-writes, but was only rejected 20+ times. I said, "Self, something just isn't working here. Let's look at the statistics here. How many slots are open with agents? How many new authors are getting in with the Big 6? You're a needle, my dear, and there are hundreds of other needles just like you in this thing we call a slush pile. You need to seriously reassess!"
I was about to give up. Then I got the call from TLT Publishing. They wanted Demons Are Jackasses. They said they wanted to publish it in October, then it got pushed back to November, then sometime early in 2012. This happens in the publishing world.
I sat down and had another serious conversation with myself. I said, "Self, sweetie, if you're ever going to make it in the Real Book World, you're going to have to get your books out there yourself."
Now, my first three books were simply re-released books I'd had published seven years before. I did that on purpose. I needed to learn what I was doing, really understand the intricacies of self-publishing. I know what I'm doing now… mostly. I learned a lot of very valuable lessons. It's been a really great experience so far!
Can you tell me a little bit about your book and what inspired it? How did choose your setting/time period (Steampunk) and how do you go about crafting that world?
I built a solar system. *shakes head* I'm such a geek, I know, but it's just something I do. I then made it out of Styrofoam and coat hangers so I could hang it from my ceiling.
Studying my Styrofoam, my mind started exploding with ideas, and histories, and how this world worked. I decided to write a story during their period of discovery. Steampunk is just so intoxicating. There are so many possibilities! The sky is the literal limit! There are so many great minds (inventors and scientists), so many inventions, and that's what Steampunk really encapsulates.
Also, I really wanted to write a book where the brainiac geek is the hero. Where else can that happen other than Steampunk, the Time of Invention?
What do you hope that readers take way with them after reading your book?
Wonder, courage, and the will to fight for what they believe in. People experience through books and movies more than through real life. It's odd, but true. I want my readers to take this story and dare to exist in the world around them, and then challenge others to do the same.
What book is currently on your nightstand? And who are some of your favorite authors?
Right now, I have Jericho 3 and Spirit's Princess on my nightstand. However, on the floor next to my nightstand is a TBR pile of both physical books, and my Kindle, I have tons of others. OMW! The market is just filled with great, GREAT stories. Okay, so some of them aren't that great. Some are bad. Some have great potential, but just didn't make it, and others are fanTASmic!
I have so many favorites! Jim Butcher is easily at the top, but there are so many more!
Do you have any advice for aspiring writers?
You're going to get tired of hearing this one. Do. Not. Quit. Can't means "won't", and won't means you're a quitter. Don't do it. Delete the word "can't" from your dictionary, or find another hobby.
You're going to need a thick skin. If you start crying, if your chin starts wobbling, your first question should always be, "Are my Big Girl/Boy Panties on?" If the answer is no, you might want to rectify that. Do not be one of the whining, sniveling individuals that we hear about in the horror stories. It's okay if your book is a baby, but please remember that your own babies have bruises, cuts, scrapes and probably even broken limbs. If they don't, they're going to grow up to be babies. Kids need hardships to shape them into better, self-sufficient human beings. Books need hard critiques and brutal honesties in order to be great novels. Not everyone is going to love you. Some are going to hate, you and you will not hear from the people who like you. If it's just a "like", they're going to keep that to themselves. It's just the way it works.
This isn't something where you can go on TV, dance a fantastically choreographed routine, or sing a song that instantly brings tears to the millions of people watching. In this industry, you need a lot of luck. If you're lucky, people will buy or borrow your book. If you're lucky, they'll actually read it sometime this year, if at all. If you're LUCKY, they'll talk about, review it and buy your other books. It's one of those things where you have to sit and wait and hope and wish and pray.
My last piece of advice is to go out in the world and FAIL! Be unafraid. Fail until you can't fail any more, and then bring yourself back. If you're not learning or exploring or daring or challenging, then what kind of stories do you honestly think you can tell?
What can we expect from you next?
I don't know which one is going to hit the market first, Those Damn Angels (book 2 of the Demon Talker Novels) or The Nightmare (book 2 of the Dreamtime Stories). Be on the lookout for both. Both are fantastic books that I think you'll really enjoy! I know I had a great time writing Angels. I should be finished with Nightmare mid-August, and then it'll go in for edits. It's on schedule to launch around Christmas time. Angels could launch ANY time!
About SM Blooding
Connect online: Website, Blog, Twitter, Facebook, Goodreads
SM Blooding lives in Colorado with her pet rock, Rockie, and Ms. Jack, who's a real bird. She's still learning to play the piano and guitar, which is going marginally better, and for those of you looking for an Arabic update, she has successfully learned one word, "Yalla, people yalla!"

She's dated vampires, werewolves, sorcerers, weapons smugglers and US Government assassins. Yes. She has stories.
The Hands of Tarot by SM Blooding
Find the book online: Amazon, Goodreads
She killed his father.

She imprisoned and beat him.

And now she thinks he's her trophy.

Synn El'Asim will do almost anything to prove her wrong. But he's only proving her right.

Queen Nix awakened his Mark of power and inducted him into the House of Wands. She knew what she was doing. The son of the two most powerful Families standing against her is the ultimate prize.

What she didn't take into consideration was that maybe he was too strong for her.

Maybe.

But the Families aren't. They've been weakened and it'll take a lot more than one young man with a powerful Mark to take on the Hands of Tarot.
Tour-wide Giveaway
SM Blooding is giving away a set of Tarot Dolls and an autographed copy of The Hands of Tarot!


Enter using the Rafflecopter form below. This Tarot Doll promotion will run from August 6 – September 28. The winner will be chosen randomly by Rafflecopter, contacted by email and announced on September 29, 2012. Giveaway is open to US and Canada mailing addresses.
Please go to the tour page to enter the giveaway. The link I have is not correct.
Related Posts