The Eleventh Plague by Jeff Hirsch
Narrated by Dan Bittner
Source: Free audio download from YA Sync
Links: Amazon, Goodreads, Author's website
In the aftermath of a war, America's landscape has been ravaged and two-thirds of the population left dead from a vicious strain of influenza. Fifteen-year-old Stephen Quinn and his family were among the few that survived and became salvagers, roaming the country in search of material to trade for food and other items essential for survival. But when Stephen's grandfather dies and his father falls into a coma after an accident, Stephen finds his way to Settler's Landing, a community that seems too good to be true, where there are real houses, barbecues, a school, and even baseball games. Then Stephen meets strong, defiant, mischievous Jenny, who refuses to accept things as they are.
This is one of the darker post-apocalypse stories I've read. At least, it's darker in the sense that it's been generations since the catastrophe that ended life as we know it struck and chaos still reigns. There is no government, and most people live a life of survival.
With this in mind, Stephen has been through a lot in his relatively short life, both physically and emotionally. He is quite unprepared and skeptical of what he finds in Settler's Landing. I don't blame him, I was skeptical and suspicious in the beginning to.
Dispite this darker world, the story has the overriding themes of love and hope. There are many examples of both, and it's a true testiment to the resilience of human life.
My favourite part of the story was the interplay between Jackson, Derek and the other teens. It was light-hearted and fun, and very teenager-ish. Nice to know some things never change, even when the whole world does.
The narration was very fitting. The voice fit what I would imagine Stephen to sound like. It really felt like Stephen was telling his story.
Overall, this was a great story that made for a great listen.
Challenges read for: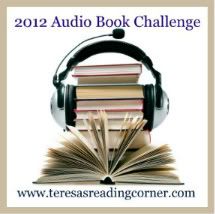 2012 Audio Book Challenge
Related Posts