This has been a slow reading week. Real life has interrupted, and I got very little reading done. And them Saturday happened and I finished 2 books. I guess hurting my back so I could barely move all day was good for something: my #OlympicReadathon progress that is. At least my son was well behaved all day, playing in the living room and on the balcony where I could see him, jumping around, playing dinosaurs and iPad and generally having fun.
Books read:
This book took me a while to read. I had a hard time with Katriona because she is supposedly 20 years old and has never kissed a boy, and she has regularly had sleepovers in the same bed with her male best friend since she was a kid. That and the book is not really a full story, but more of a set-up book for the series.
These were both amusing romance stories, each with unique twists. The Coffee Shop was told from a male POV and included alternate timelines. Timeless Desire include time travel back to the 1700s. I had a lot of fun reading both stories.
Books received:
I won the No Strings Giveaway at My Inner Muse and got the following 4 ebooks:
Dark Conspiracy (Werelove #1) by Lakisha Spletzer
Midnight Revelations (Werelove #2) by Lakisha Spletzer
The Tempo (Elemental Symphony #1) by Lakisha Spletzer
The Rising (Annals of the Las Armas #1) by Lakisha Spletzer
Lakisha is currently running a contest where you can appear in one of her upcoming books. Check out the contest here. Ten lucky winners, yes 10, will appear in one of her next books in the Werelove series. Contest is open until July 31.
I received a package this week with a collection of kids books about bullying. They look cute, and I'm going to see if I can convince my niece and nephew to guest review them from a kid's POV.
The Legend of Captain McFinn and Friends by Phyllis C Carfaro
Captain McFinn and Friends Meet Coral Rose by Phyllis C Carfaro
Captain McFinn and Friends Rock! by Phyllis C Carfaro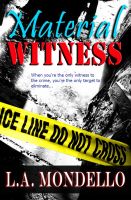 Material Witness by LA Mondello – upcoming blog tour
Timeless Desire by Gwyb Cready
Monoculture: How One Story is Changing Everything by F.S. Michaels – Won from The Book Mine Set

Winners:
No Strings Attached Giveaway – $15 from The Book Depository and Smashwords – Les J
Cool stats for the week:
Most popular post: 2012 Ebook Challenge Sign-up
#1 referring site – http://shaynagier.com
Top 5 search keywords:
workaday reads
bright shadow monsters
dark fairy
gary smoke peters
lang's horse and pony farm
Related Posts