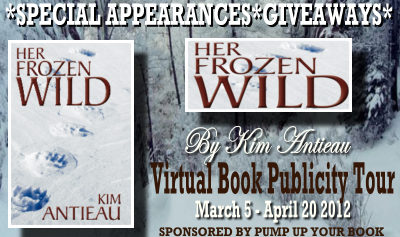 Today I have Kim Antieau, author of many books, including the recently released Her Frozen Wild, here today to answer a few questions.
What's the hardest part of writing a book?
For me, writing the first few pages of a novel is often the most difficult part of the whole process. I have to introduce characters and the story and do it in a way that'll keep readers interested. I can't tell too much or too little; it has to be just right. (The Goldilocks way of writing!) In some ways, in the beginning, it's like trying to stay in control of a car where the accelerator is pushed all the way to the floor as soon as you start driving: You're trying to slow down, steer the car, and get to your destination safely all at the same time. Once the first few pages are done, I feel better. Once the first 50 pages are done, then I'm usually on a roll.
What's your favourite part of writing a book?
I love being in the book. Once I get going, I feel as though I'm part of the story and those worlds. For instance, in Her Frozen Wild, I get to be in a gorgeous mansion in Russia with the handsome Sergei; I'm in the Altai helping to uncover a Scythian mummy; I time-travel to 18th century Siberia and hang out with an alchemist; I time- travel again to ancient Siberia where I ride horses with a powerful Scythian warrior woman who also becomes my mentor and teacher. Through my writing, I feel as though I've met the most interesting people in the world, and I've gotten to travel to some amazing places.
What inspired you to become a writer?
As far as I can remember, I've always wanted to be a writer. Even before I could write, I drew pictures to form a narrative and I made them into little books. Once I could read and write, I started writing stories. I still have stories that I wrote when I was in elementary school. One of the first ones is called "Lily Goes to Fairyland." When I was in high school, I started writing a book a year during the summer. The first one was inspired by a movie I'd seen on TV called When Worlds Collide. In it, two rogue planets are going to collide with Earth, and everyone is going to die except those who can leave the planet on this giant spacecraft. The movie ends with the spacecraft taking off. Most of the story in my book takes place once they settle on another planet. I still have this book. It's written in longhand, and it's not very good, but I love the fact that I was writing novels when I was so young!
What kind of research did you do to write this book?
I probably did more research on this book than I've ever done for any novel! Although archaeology is an avocation of mine, I'm not an archaeologist, and Ursula is. (She's the main character in Her Frozen Wild.) So I contacted an archaeologist in Portland, and I spent part of a day with her. I saw where she worked, and I interviewed her for a few hours.
I also researched Siberians shamans, and my husband and I spent a weekend with a modern-day Siberian shaman where we learned the Bear Dance and became part of the Bear Clan. Of course I learned everything I could about the Siberian ice mummies, and I kept in touch with an archaeologist who had traveled and researched the mummies. I learned as much as I could about the Scythians, who lived in that part of the world. Some scholars have theorized that the Scythians were the source of the stories of the Amazons. I was thrilled by this because I had always intended for them to be a lot like the Amazons. In addition to researching those topics, I learned about tattooing, bear mythology, shape-shifting legends, alchemy, and Russian flora and fauna. I am a librarian as well as a writer, so research is second nature to me, and I enjoy it.
What types of prewriting activities do you do? (i.e. research, outlines)
I don't do outlines. I do write out a list of the major scenes and how many pages I think each scene will be. This list helps keep me on track as I write, and it gets revised as I go along. The amount of research depends upon the book. As I mentioned, I did a great deal of research on Her Frozen Wild. I spent at least a year doing research, and it took me a year to write it. It's a lot easier to do research now than it used to be. Because we have e-mail and the internet, I can get answers to questions almost immediately. In years past, it would sometimes take months to find out particular details, especially if I was writing something historical.
For instance, I recently wrote Butch, and it takes place in a town much like Taos, New Mexico in 1918. I had to learn a lot about that time period in that part of the country. (I didn't want to learn too much. To write the book, I don't need to burden the readers with unnecessary details. I just want to provide enough detail to give the novel verisimilitude.) Anyway, I needed to know some things that weren't readily found on the internet or in books. I didn't know if Taos had phones at that time. As it turned out, there's a telephone museum in New Mexico, and I emailed them and quickly got the answer to that question.
My husband, writer Mario Milosevic, and I try to go on a six week writing retreat every winter. I usually write a book during that time. Because I'm away from home and my own library, I try to write something doesn't require much research. I wrote Church of the Old Mermaids during one of the first retreats. Since then, I've written Desert Siren, The Blue Tail, The Fish Wife, and The Rift on these retreats. Except for The Fish Wife, they were all contemporary novels, so I didn't have to do a lot of research. This year, I wrote two novels while on retreat: Whackadoodle Timesand Pricked: A Jane Deere Novel; they were both contemporary novels, and I didn't need to do any research for them. I don't mind the research, but I do love being able to dive into the writing and spend time in my imagination without worrying about whether I got a particular detail right or wrong. In fact, all this talk about my books has me itching to go back and write something!
About Kim Antieau
Kim Antieau has written many novels, short stories, poems, and essays. Her work has appeared in numerous publications, both in print and online, including The Magazine of Fantasy and Science Fiction, Asimov's SF, The Clinton Street Quarterly, The Journal of Mythic Arts, EarthFirst!, Alternet, Sage Woman, and Alfred Hitchcock's Mystery Magazine. She was the founder, editor, and publisher of Daughters of Nyx: A Magazine of Goddess Stories, Mythmaking, and Fairy Tales. Her work has twice been short-listed for the Tiptree Award, and has appeared in many Best of the Year anthologies. Critics have admired her "literary fearlessness" and her vivid language and imagination. She has had nine novels published. Her first novel, The Jigsaw Woman, is a modern classic of feminist literature. Kim lives in the Pacific Northwest with her husband, writer Mario Milosevic.
Connect online: Website, Twitter, Facebook, Goodreads
Her Frozen Wild by Kim Antieau
Scientists in the Altai in Siberia uncover the 2,500 year old frozen mummy of a tattooed priestess or shaman. This mummy has the same mtDNA (mitochondrial DNA) as American archaeologist Ursula Smith whose mother disappeared in Siberia 30 years earlier. Ursula travels from the U.S. to Siberia to unravel the mystery of the "lady" and meets Sergei Ivanovich Polyakov, a Russian doctor who graciously invites her into his home. After they become lovers, she discovers he has the same tattoos on his body as the tattooed lady. He tells a disbelieving Ursula that they have met before and she is destined to save the ancient People, considered as devils by some and shape-changing gods by others. A shaman takes Ursula to one of the sacred timeless caves where Ursula's mother supposedly disappeared. When Ursula allows the shaman to tattoo her, she is thrown back in time where she must unlock the mystery of the People and their link to her past in order to save them and Sergei—even if it costs her her life.
Find the book online: Amazon, Smashwords, Goodreads
Want to win a copy of the book?
I have one paperback copy to give to a lucky reader in Canada or the US. To enter simply leave a comment answering the following question:
Have you read any of Kim's novels? Or have any on your wishlist?
Giveaway open to US/Canada mailing addresses only. Giveaway open until midnight EST April 10, 2012. Please remember to include your email address in your comment.
Related Posts