Is January over already? Are you sure? It flew by so fast. I'm not even sure what to talk about as a review.
You may have noticed my new Friday Leftover feature, which I am loving. It gives me a chance to share with you some things that I don't want to wait until my monthly wrap-up to share.
In numbers, I gained over 100 GFC followers this month. That's pretty awesome, especially since it pushed me up over 1000 followers. I would do a big giveaway to celebrate, but I already have 2 big ones planned for February. I really can't afford to add in another one.
Books read:
In January – 12 – Lower than any month last year. I don't think I'll make 200 books this year at this pace. Goodreads is already nagging me that I'm 3 books behind.
Year-to-date – 12
Posted in January:
Reviews -15
Discussion posts – How I Count Challenge Books, New Features, plus 2 leftover posts
Author interviews – Dan Gilvezan, David Rotenberg, JJ Bidell
Author guest posts – Mayra Calvani, Heather Wardell, Terri Giuliano Long
Challenge Status:
I used to only count books once the review was posted, but book tour books tend to mess this up, so I'm switching to counting when I finish the book. As a result, the numbers below may look a little odd this month.
Canadian Book Challenge 5 – 15/13 – reached the goal!
2012 TBR Pile Reading Challenge – 12 read
Speculative Fiction Challenge 2012 – 9 read
2012 Audio Book Challenge – 2 read
2012 Ebook Challenge – 15 read
2012 Self-Published Reading Challenge – 5 read
In Death Challenge – 6 read – no change this month
What's coming in February?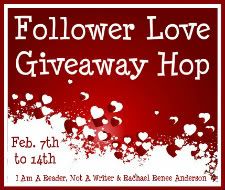 I have two big giveaways in February: the Follower Love Giveaway Hop and my 1 Year Blogiversary giveaway. That's right, Workaday Reads turns one! I am very excited and happy about this. I have decided to do something extra special for the giveaway, so be prepared, it won't be like most of my giveaways.
Related Posts