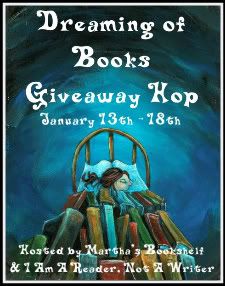 Welcome to the Workaday Reads stop along the Dreaming of Books Giveaway Hop hosted by Martha's Bookshelf and I Am A Reader, Not A Writer.
For some reason this giveaway snuck up on me and I didn't really plan anything for it. It's been in my calendar for a while, but I kept overlooking it for some reason. My unpreparedness is to your benefit though. The prize will be your choice, and the entry super easy.
Prize:
Any book you choose up to $15 Cdn from The Book Depository.
Entry and Eligibility:
To enter, complete the form below with your name and email. There is one extra entry available for following Workaday Reads through any of these methods: Google Friend Connect, email subscription, Goodreads friend or Facebook fan. You only need to follow in one way to earn the extra entry (but of course I'd love if you followed multiple ways). Giveaway is open to anywhere The Book Depository ships. Entries will be accepted until midnight Jan 18, 2012.
Hop On:
There are over 200 blogs participating in this hop. Be sure to check out the full list and hop through to other giveaways.
Related Posts