December has been a mostly great month. Christmas was good. We were supposed to go to my mom's for Christmas, but unfortunately there was a death in my husband's family, so we flew to BC instead, We haven't been out there in 2 years, so the visit was nice, just wish it was under better circumstances.
Personally, I did buy a new car. A 2008 Ford Escape actually. I am loving it so far! Best feature? Heated leather seats. How did I survive without them?
Blogwise, I passed post #500 and follower #950. Both of which are utter craziness! But so much fun.
Books read:
In December – 13 – Mostly redeemed during trip to BC. Otherwise it was much lower.
Year-to-date – 226 – Woohoo!
Posted in December:
Reviews -11
Discussion posts – 2012 Challenges I'll be doing, Shipping Books, Holiday Reads
Author interviews – Natalie Damschroder, E Van Lowe, Emily Devenport, RH Russell, Larissa Hinton
Author guest posts – Karen A Wyle
Challenge Status:
**Note, I only count reviews that are posted. If a book is read but a review isn't posted, then it's not included until it is posted.**
In Death Challenge – 6 read – no change this month
Canadian Book Challenge 5 – 10/13 – no change this month
I have no challenges left that end in 2011. The In Death challenge is perpetual, and the Canadian Book challenge goes until June 30, 2012.
What's coming in January?
– Both of the 2012 reading challenges I am hosting begin. They should be so much fun. Have you signed up yet? Of course, my other reading challenges start too.
– Net Galley Month at Red House Books for January.So much fun, and so great to get those Net Galley books read.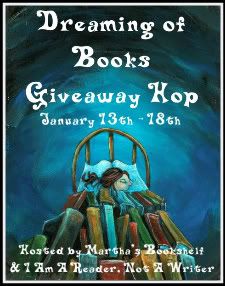 – The Dreaming of Books Giveaway Hop runs January 13-18. Like normal, I don't know what I'll be giving away yet, but it will likely be open worldwide.
Related Posts