Today I have McCarty Griffin, author of several books, here to talk about her writing process.
As far back as I remember I wanted to write. I think most writers could say the same thing. I made sporadic starts and stops over the years, dabbling in various genres and story lengths, but never finishing anything. I went long periods of time doing everything else but writing, before I tried again and quit again to do something else. Only in the last few years have I finally become serious about it. My
personal tipping point was brought about by the unexpected effect on my psyche of a saying I stumbled across one morning while cruising the Internet: "It is never too late to be what you once might have been."
This quote from another, far more talented author named George Eliot struck a deep chord within me. I kept reading it and mulling it over, until I finally printed it out in big, bold letters and taped it above my computer. I realized at the time that this saying didn't constitute a universal truth. What if I'd wanted to an astronaut? At my age, with no training, the wrong college degrees for space travel and only a few years military experience, it was definitely too late for that trip to Mars. But then, I had never wanted to be an astronaut, I had always wanted to be a writer, yet here I was in my forties and still not a writer. Why?
I suppose I could have come up with all kinds of excuses for myself, but I ultimately had to admit that the only reason I wasn't a writer was, quite simply, that I wasn't writing. The only thing keeping me from being a writer was me and the only person who could make me a writer was me.
This observation from my own life leads directly to what I consider the very first rule of penning a story–you have to actually sit down and write. Sounds trite, I know, but for me it was a boot to the head. Finding reasons not to write is easy–I'm not in the mood, I have too much to do today, I'm too tired, I have writer's block, I'll just take a break this one day, then start tomorrow–while sitting down every day and producing that one page minimum is hard. Waiting for the right time, or the right mood, or the right anything is the surest method I've discovered of never writing a word.
Another impediment to writing I learned about the hard way is trying to write the perfect story the first time round, editing and changing and agonizing over every word as it's typed. Spending so much time working on that first chapter, she or he may never get around to finishing it. So, my personal second rule of penning a story is to write the whole thing beginning to end without stopping to edit a thing. Just get that story down. Then, put it away for a while, so that when you do begin your editing process, you do it with fresh eyes.
I've been asked before about how I go about creating the plot to a story. Some writers plot the whole thing in detail before they write a word; others just wing it and plot as they go. I'm somewhere in between. I have a mental outline of the story that gradually fills itself in as I write. Sometimes, the twists and turns in the story surprise even me, which leads (sort of) to my third personal penning rule: don't write for anyone but yourself. By that, I mean write a story that you would enjoy reading if you were seeing the story for the first time. Somewhere out there are other human beings who will like it, too. Trying to write what you think will sell or what fits the current fad seems to me to be a surefire method of stifling your creativity with a mental straight jacket. If you love the story you're writing, the words will flow like warm caramel and the pride you feel in the completed story will be just as sweet.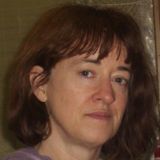 About McCarty Griffin:
McCarty Griffin lives in the Pacific Northwest, at the foot of the Cascades, with her husband, two children and several nonhuman family members. She is a transplanted hillbilly, born in Texas, but raised in the hollows and hills of West Virginia, where most of her works are set. She does not limit her creative efforts to any particular genre, although she does have a special love for horror, which she traces back to a childhood of Saturday nights eating Chef Boyardee pizza and watching Chiller Theatre with her mother. Before beginning her second life with her current husband, and settling in to raise her daughter and son, she served in the United States Army, went home to earn her undergraduate and law degrees, and then practiced criminal defense law for more than ten years. After half a lifetime spent doing everything but what she truly wanted to do, she finally just sat down and started writing, and she hasn't stopped since.
Connect online: Website, Twitter, Facebook, Goodreads
Book Highlight:
Half-inch is available at Amazon, Barnes and Noble, Smashwords
Monster Story is available at Amazon, Barnes and Noble, Smashwords
The Tribe is available at Amazon, Barnes and Noble, Smashwords
Related Posts