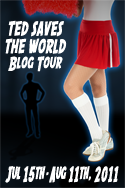 As part of his blog tour for Ted Saves the World, Bryan Cohen is here today to talk a little bit about friendship.
In writing my first fiction book, Ted Saves the World, I've thought a lot about superheroes and friendship. I couldn't help but model Ted's life a bit off of the lives of other superheroes that have come before him in comic books and movies. In nearly every scenario I've read, the superhero's life is in part defined by his or her friendships.
Superman has less to fight for without Lois Lane and Jimmy Olsen. Batman was raised by Alfred and is kept off the most wanted list by Commissioner Gordon. In Ted Saves the World, Ted is supported by his entrepreneurial best buddy Dhiraj, his butch ex-girlfriend Jess and his cheerleader guardian Erica. If it wasn't for those three, he would be dead by the end of the book for sure.
My thinking about friendship, however, did not just limit itself to the fictional kind. A writer in a way needs to become a kind of superhero to finish a major project. There are distractions to overcome at every turn, there is writer's block to contend with and there are worries that a scene or a chapter isn't good enough to include. Without a group of friends to bounce ideas off of, to relax with and to gain moral support from, a writer is often in a lot of trouble.
I'm fortunate to have some of the best writing superhero friends someone could ask for. I have some that I can count on to tell me when an idea I have is awesome or if I should focus on the better ideas I've previously conjured up. I have friends that I can talk to about the aspects of life and love that would give me a strong case of writer's block unless dealt with in a speedy fashion. Most importantly, I have friends that are supportive of my writing career that believe in me and can lift me up when I'm feeling down.
While a superhero may be able to leap tall buildings or freeze water into intricate shapes, a hero is nothing without a motley crew of pals to help his not to sweat the small stuff.
Thanks so much for reminding us about the importance of friends.
About Bryan:
Bryan Cohen is a writer, actor and comedian from Dresher, Pennsylvania. He graduated from the University of North Carolina at Chapel Hill in 2005 with degrees in English and Dramatic Art and a minor in Creative Writing. He has written seven books including 1,000 Creative Writing Prompts: Ideas for Blogs, Scripts, Stories and More. Contact Bryan through his Ted Saves the World blog, his Build Creative Writing Ideas site or Twitter.
About Ted Saves the World (Available for just $0.99):
A possessed cheerleader. A cursed gang of criminals. Mysterious telekinetic powers. An angry ex-girlfriend in gym class? One second, sophomore in high school Ted endures his first breakup in his favorite place in town. The next, a mysterious blue light turns him into a worldwide superhero sensation for taking down a posse of grisly murderers. As his views on YouTube increase and his friend Dhiraj tries to capitalize on the marketing potential, his dangers increase as well when a presumed-dead cheerleader begins taking a personal interest. Can Ted survive his first week as a superhero in the public eye? This novella is the first taste in a series of full-length novels about the adventures of Ted Finley and Erica LaPlante. The book is also available on Barnes & Noble and Smashwords for $0.99.
Want to win a $25 Amazon gift card?
Bryan Cohen is giving away four $25 Amazon gift cards, one for each week of his month long blog tour. To enter, simply comment with your e-mail address (feel free to substitute @ with (at) or other tricks to stop spammers from getting it). Bryan will draw the four names at the end of the tour, picking one entrant at random from each week's set of blog posts. Entries will be counted through Monday, August 15th, 2011. Enter on as many sites as you want, follow the tour at Build Creative Writing Ideas. If Ted reaches the Top 100 on Amazon at any point during the tour, a fifth $25 card will be added to the giveaway.
Related Posts