The Life and Times of Delila by Lindsay Klug
Rating: 4/5
Source: Review copy from Silver Publishing for Book Lovin' Bitches Ebook Tours
Links: Amazon
, Goodreads, Author's website
 
Delila has been a vampire for over 1600 years and is known for her beauty, business sense and ability to read thoughts and see auras. When she meets first meets the werewolf Eli she feels overwhelming lust. But vampires and werewolves don't get along, especially with the coming war between them.
This was a very exciting and fast-paced read. I loved the first half, but found the second half to be very rushed. The first half set up the main story. There were lots of detailed interactions and scenes. The second half seemed to just skim over everything in an effort to cover everything.
I loved the relationship between Delila and Alaric. Alaric is her maker, but because of the ages they each were at the time of their change Delila usually masquerades as Alaric's mother. You can really see how this creates a very different relationship between them. Often it seemed like Delila was the maker as she came across as the grown-up.
Several times it was mentioned that Delila is a very sensual and sexual woman. Her wardrobe is always described, and her effect on men is detailed time and again. I found this to be a little over the top. The constant repetition seemed to diminish the effect, especially since most of the action didn't involve this side of her.
Overall, this was a very good read. I just wish the second half was expanded to match the same level of detail as the first half.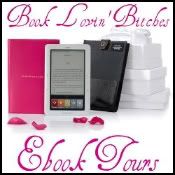 Book Tour Schedule:
Be sure to check out all the other stops on the book tour.
5/7   review @ Rabid Reads
5/31 guest post @ Romancing The Darkside
6/2   review @ Workaday Reads
6/22 book excerpt @ Book Lover's Hideaway
6/23 book excerpt @ Sara Is Reading What?
7/21 review @ It's All About Books
8/17 review @ Aobibliosphere
Related Posts