Riversong by Tess Hardwick
Rating: 4/5
Source: Review copy from Booktrope for Book Lovin' Bitches Ebook Tours
Links: Amazon
, Goodreads, Book Depository, Author's website
Lee Tucker's life goes from ordinary to complicated when she learns she's pregnant right before her husband commits suicide and leaves her with a large debt to a loan shark. She goes back to her home town to try to raise the money to pay off the debt by helping open Riversong, an upscale restaurant.
Even before the story starts, you know Lee has a hard life. The book description clues you in right away. What it doesn't tell you is that Lee's hardships started way before her present situation. She grew up with an alcoholic hoarder mother who basically left Lee to raise herself. She was a social outcast who didn't fit in at school. All of this contributes to an immediate feeling of sympathy for Lee and what you know she is going to go through. I found it easy to root for her, although her strength also translated to stubbornness in that she wasn't willing to ask for help, even when it would makes things easier.
There were no surprises in either the storyline or characters. This story followed standard romance book requirements. This did not detract from my reading enjoyment though. It was nice to be able to relax into the story, knowing that good triumphs evil and love conquers all. If you are looking for a light weekend read, this is definitely a book to consider.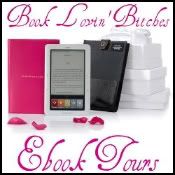 Book Tour Schedule:
I'm the first stop in the book tour that runs May 18-May 31. Be sure to check out all the other stops, and come back here on May 24 for a giveaway.
5/18   review @ Workaday Reads
5/21   guest post @ Just Another Book Addict
5/20   book excerpt @ Fade Into Fantasy
5/22   giveaway @ Just Another Book Addict
5/24   giveaway @ Workaday Reads
5/24   guest post @ Ramblings of a (Future) Librarian
5/25   giveaway @ Ramblings of a (Future) Librarian
5/27   giveaway @ Fade Into Fantasy
5/29   review @ A Chick Who Reads
5/29   review @ It's All About Books
5/30   review @ Beck's Book Picks
5/31   giveaway @ Beck's Book Picks
5/31   book excerpt @ A Chick Who Reads
5/31   guest post @ It's All About Books
Related Posts